Automated packing line for the furniture industry
Save 33% on costs with a fully automated packaging line for the furniture industry.
Qubiqa's fully automatic packaging line for flat packing fronts, doors, and cabinet sides has a capacity of up to 26 elements per minute, which is the best alternative available on the market. The Qubiqa packing line is developed in close collaboration with plant managers in the furniture industry. The main focus has been on process optimization through more automation with higher capacity, quality, and sustainability. 
Especially from a sustainability perspective, cardboard as packing material was desired to be substituted with film. Packing the elements with film is simpler, cheaper, and faster than cardboard, allowing for a higher capacity without compromising quality and the environment. 
The packing line can use in combination film and foam LDPE up to 1.0mm thickness as packing material for better product protection and to exude quality of the finished packed elements.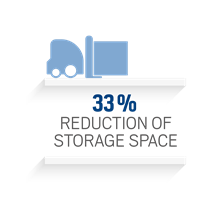 "Using film, we found more benefits than with cardboard; it takes up less space in our warehouse, when transporting it and is a better choice for the environment."
Chris Larsen Production manager at Kvik
Sustainability & e
fficient use of resources 
The CO2 emissions when using cardboard turned out to be extremely high compared to plastic. With a desire to reduce CO2 emissions and to use resources most efficiently, plastic foil was chosen as the suitable material for packaging.

"We have gone from cardboard to plastic, saving energy and water compared to the cardboard we used before. When you have control over your plastic, it can be recycled x1,5 better than cardboard and with significantly lower resource consumption resulting in 70x less water use, 5x less CO2 emission, and 8x less energy." 
Production manager, Kvik A/S
Variation & future proof 
The packing line has a capacity of up to 26 elements per minute and can pack any variation of elements within (L)280-3000 mm (W)100-1200mm (H)12-50 mm.

Elements up to 600mm in width can be packed in two lanes for higher capacity.


Product change to a new variant of a product is quick and easy via a recipe-controlled system. At one of our customers packing line is running with more than 1500 variants of products.

The many possibilities ensure a future-proof packing line that can handle increasing capacity and variation in the range.
User-friendliness & ergonomics 
With an automated packaging line utilizing robotic technology, employees are guaranteed a better working environment with better ergonomics.


The system contains both foil rolls and foam foil rolls, easily changed in an ergonomic position without heavy lifting. 
Qubiqa as a partner 
We offer a wide range of engineering services for process optimization and can assist you through the various stages of developing the perfect solution for your new automated equipment.
Our know-how comes from a close collaboration with the insulation industry to develop innovative and automated machines and robotic solutions that contribute to an increased competitive advantage using the right precision and speed.


We develop and customize specific machine solutions for all packaging and logistics, supplying customized and standardized machines. We are experts in solving your challenges and increasing your efficiency through process optimization of your production setup. Our focused approach is based on high requirements for innovation, intelligence, stability, and service.
We take care of the automation project on a turnkey basis, from concept development to detailed design, manufacturing, installation, and commissioning, ensuring the most optimal solution for you as a customer. Once commissioning is completed, Qubiqa Aftersales is dedicated to supporting you as a partner throughout the entire life cycle of your equipment.
Realizing opportunity?
Contact me
Martin Valgren
Director of Aftersales & Automation
Let us help you tailor a solution especially for you, ensuring the required capacity and quality for future growth.