We are always looking for qualified and innovative colleagues
We value good working conditions and support our employees in their professional and personal development
Current Vacancies:

Blue collar - production & assembly
Currently no available jobs within our production and assembly facilities. 

White-collar - office jobs 

Internships (Automation (PLC/Robot), Electrical & Mechanical) Apply through Unsolicited applications. 


Study job (PLC/Robot), Electrical & Mechanical) Apply through Unsolicited applications. 

Unsolicited applications
With our recruitment policy, we wish to ensure a match between Qubiqa and our future employees, resulting in a low staff turnover.
We are always looking for qualified and innovative colleagues. If you want to be a part of our team in Esbjerg, please send an unsolicited application here:
Send an unsolicited application to Qubiqa.
Read more about Qubiqa's use and protection of personal data (GDPR)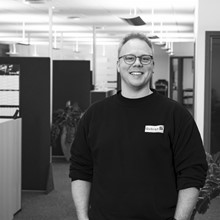 At Qubiqa I have the opportunity to develop further professionally and can spar with skilled and experienced colleagues
Kasper Kristensen Project Engineer
Our working culture
Qubiqa has a tradition of being responsible, and it is firmly rooted in our spirit
to take good care of each other, the environment, and the local communities
in which we are active.
At Qubiqa, we take pride in being the best at what we do; therefore, our
culture must be motivating, and everyone has to feel joint ownership and be
willing to shoulder responsibility. Working together is challenging and inspiring,
but there is also room for fun, and we encourage our employees to find a
healthy work-life balance.
We give our employees a significant responsibility and a reason to be proud of
the company and our products. We value reliability and commitment in
dialogue-based communication where there is room for knowledge sharing
and sparring across departments.
Students and recent graduates
We offer internships and also regularly hire student assistants.
We find that this is not just for the benefit of the student, but it
also brings a lot of value to the company.
We do not have formal internship programs, but we have a great
experience from taking in internet from various educations. If you
are interested in an internship, you are always welcome to send us
an unsolicited application via the form under "Unsolicited applications."
We also collaborate with students (student assistants, Ph.D. students,
and thesis students when we find that it is relevant to both parties.