01 May 2023
Sustainability trends in plastic packaging
Background

Consumers and communities are highly aware of sustainability issues, climate changes and environmental degradation that poses an existential threat to our world. It appears these concerns are accelerating and most companies need to address the trend in order to stay relevant in their markets.
Plastic packaging has today a bad boy reputation; we have all seen the fear visuals of oceans with plastic waste floating around and landfills with mountains of plastic waste.
The number of new sustainability regulations is accelerating and becoming more ambitious and ever stricter, and it has become a complex landscape for corporations to navigate. [1]
Realizing opportunity?
Contact me

Sustainability trends in plastic packaging
Let us help you tailor a solution especially for you, ensuring the required capacity and quality for future growth.
European Union's Green Deal is ultimately about reducing net greenhouse gas emissions by at least 55% by 2030. [2]

One initiative under the Green Deal is tax policies to reduce plastic packaging and promote recycled plastics – and via the collected taxes or contributions to generate funding for new recycling facilities.
The EU's plastic packaging tax relies on each member state to pay a contribution regardless of the tax collected. These plastic contributions are forecasted to generate approximately 6 to 8 billion euros annually. It is up to each EU member state to formulate and implement its own plastic packaging tax, so many variations are seen and resulting in a maze of rules, adding to the complexity for companies to navigate.


Spain will, from January 2023, collect a plastic tax of 450 EUR per ton on non-recycled plastic packaging (virgin plastic). EU members Spain, Portugal and others have communicated plans to collect plastic taxes in the coming period.
In the UK, the UK  Plastic Tax has been enforced since April 2022, with a £200 per ton plastic packaging tax. However, exempted if the plastic packaging contains a minimum of 30% recycled plastic.
In November 2022, The European Commission announced the plans to revise the EU Packaging and Packaging Waste Directive, with the introduction of new targets for recycled content in a variety of plastic packaging. As an example, it is proposed that plastic packaging for industrial products is made with a minimum of 35% recycled content collected from consumers in a circular economy. [3]
Despite a push from society's sustainability awareness, companies' sustainability agendas and tax incentive policies, the adoption of more sustainable choices for plastic packaging is relatively slow.One of the explanations points towards the critical gaps:
waste collection,
recycling systems, and
technology,
- which are limiting significant changes in the packaging value chain over the near term.
According to OECD, February 2022 - globally, only 9% of all plastic waste is reprocessed, while 22% is mismanaged. Most plastic waste is incinerated or sent to landfills[4]. However, one technology in the market allows you to downgauge your plastic packaging for insulation multipack products and contribute to your sustainability commitments.
The solution – reduce film thickness up to 50% on your insulation multipacks

When insulation plants make bundles or multipacks of glass wool or stone wool slabs or rolls, a thick polyethylene (PE) film is used as packaging material, the typical thickness is from 60 micron to 100 micron. It is possible to reduce the film thickness by up to 50% by changing from a conventional PE film to an MDO film.
 
MDO (machine direction orientation) technology is an excellent example of how you can pack your glass wool or stone wool products in a more sustainable way.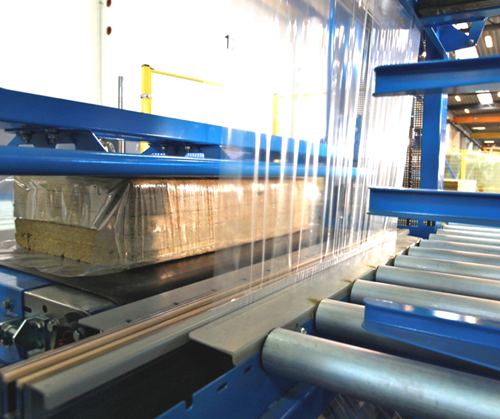 The MDO film is manufactured in such a way that, following the normal extrusion, it can be stretched by as much as 600% lengthwise. Using the MDO process results in a thinner, stiffer and stronger film. Manufacturing a thinner film consumes fewer fossil fuel resources, and the logistics and energy costs of transporting the film are also reduced, further decreasing emissions.
Because the MDO film is very strong and is not compromising the material properties compared to conventional PE film, you can use it for compression multipack.

Qubiqa is not a producer of packaging films. We are a turnkey solution provider for cold-end equipment for customers in the insulation industry and a technology-driven company with a history of 77 years. We are a leading supplier of multipack machines for glass wool and stone wool products.
Today we focus more than ever on supporting our customers in their quest for increased sustainability.
How it works
The plastic film sealing (weld) is always the weakest point in a multipack. To obtain strong welds in MDO film when producing multipacks under compression, it is necessary to control the tensioning in the film during the sealing process.

Qubiqa developed a welding bar that gives strong welds in MDO film when compression multipacks. The result is one of Qubiqa's sustainability offerings – we call it the FlexWeld.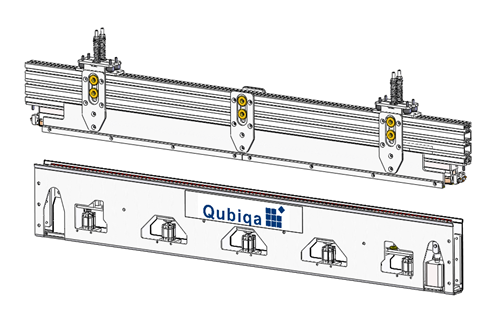 The patented FlexWeld is designed especially for MDO film and is today the default welding system on all Qubiqa's multipack and bundler machines. The FlexWeld is well proven, with more than 70 FlexWeld welding systems in operation worldwide within the insulation industry.
Another advantage of MDO film is since the MDO film is pre-stretched, the bundles or multipacks will not grow over time because the MDO film is not expandable like conventional PE film.
MDO films are also available on the market with recycled content. For example:
Formifor Sustane is an MDO film with 30% - 50% recycled content achieved via a circular economy concept [5]. Some other plastic film producers on the market are Rani[6] and Barbiere [7]
Conclusion
The FlexWeld welding system is a specific solution from Qubiqa that allows you to downgauge your packaging film for compression multipacking, contributing to your sustainability commitments and using tax policy incentives.
At the same time, you reduce the cost of the film when transitioning from conventional PE film to thinner and stronger film.
This makes the investment pay-back time for the FlexWeld upgrade very attractive, typically less than one year.

Qubiqa and non-Qubiqa Multipack machines with conventional welding systems can be upgraded to FlexWeld systems.
---


Want to know more? 
Find more information about our Flexweld upgrade here